Virtual Radar Server is an open-source .NET application that runs a local web server. You can connect to the web server with any modern browser and see the positions of aircraft on a Google Maps map.
You can see an example of the server's output here.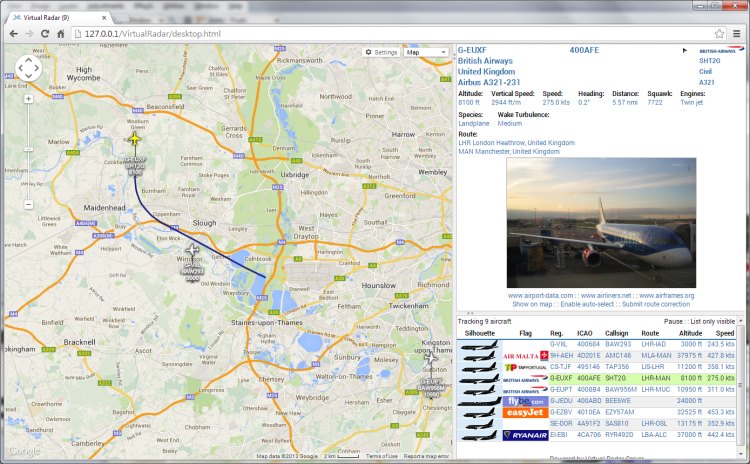 ---
Requirements
Virtual Radar Server runs on Windows XP, Vista, Windows 7, 8, 10 and Linux (under Mono).
Tracking real aircraft
You will need a radio that is capable of receiving Mode-S transmissions.
Virtual Radar Server was written and tested using Kinetic Avionic's SBS-1er and SBS-3 radios but it will work with anything that can produce the Kinetic text message format, Kinetic's SBS-3 binary format, the AVR "*", "@" or ":" formats or the Mode-S Beast binary format.
Tracking Flight Simulator X aircraft
Virtual Radar Server can also show you the location of a simulated aircraft being flown in Microsoft Flight Simulator X. To see this you just need to install Virtual Radar Server on the same computer that Flight Simulator X is running on.
You will not need an ADS-B receiver.
---
Getting Started
If you have an ADS-B receiver, or a copy of Flight Simulator X, then just download the program and give it a go!
If you want to keep abreast of changes to the program then you can: